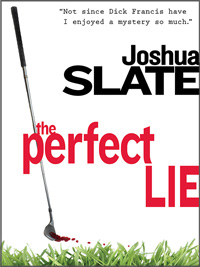 The Perfect Lie
a mystery by
Joshua Slate
.
In eBook: $3.99 (Canada & US & Australia) €3 (E.U)  £2.60 (UK)
 .
.
Description
It should have been a perfect morning at Six Oaks Golf and Country Club: the sky was baby blue, the air cool, the fairways glistened with dew, and the surrounding woods were quiet excerpt for the chirping of songbirds.

Noli Anderson – at thirty-two, a former winner on the professional golf tour and now co-owner of this small slice of paradise – is playing a quick nine holes before the first golfers arrive. But what starts off peacefully, quickly turns into nightmare when Noli discovers the body of a murdered and mutilated dog blocking a small waterfall.

And so Noli is drawn into a fight against an invisible enemy. But who is it? A person? A company? What's its goal? Extortion? Take over the club for its real estate value? Revenge? Why is his business partner falling apart? And exactly who on their board can be trusted?The Perfect Lie is a mystery in the mold of the wildly successful Dick Francis novels.The Perfect Lie is a story of quiet heroism.

It is a story of old fears broken and new love discovered.

It is a story of cunning and deception, of deceit and courage, of tough choices, and of both the sparkling possibilities and the terrible traps that lie in wait on an otherwise perfect day.

If you like mysteries but couldn't care less about golf, you're going to love The Perfect Lie.

If you like golf, but have never read a mystery, you'll love The Perfect Lie. And if you love both golf and mysteries, The Perfect Lie is the perfect read!
BUY eBOOK!
United States
Canada
.
United Kingdom
Germany
.
Italy
.
Spain

.
France